Hairdressers in Lima, Peru
Welcomes, i am anita gutierrez, under a totally novel concept in physical preparation and integral beauty, the center new beauty is located in the freshest and.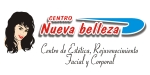 Welcomes, I am Anita Gutierrez, under a totally novel concept in physical preparation and integral beauty, the CENTER NEW BEAUTY is located in the freshest and safe place of our city, reunites in a same space, all the services of treatments in aesthetic and beauty, face as as much corporal.
Our Center dedicates exclusively to noninvasive treatments of face beauty and
More...
Jr. Bajada Balta 131 Nº 10 (Referencia: Frente al nuevo supermercado WONG de Miraflores) - Lima - Peru
Beautiful beauty room tips
Professionalism and dedication.
Beauty parlor in Lima
It is a new option in this area of ??beauty and personal care. With good service! The hope from Monday to Sunday by appointment from...
Beauty salons in Peru
Products of beauty, you cut, dyes, waves, hairdos of fianc2ee, face cleaning of skin with vaporizer, massages, manicure, pedicure, domiciliary attention....
We ensure that your hair is healthy with good color and radiant kprichos lounge just for you.
Professionals in processes laciado japones, retex y brasilero with professional products that take care of their hair; natural extensions, changes of look and color with wicks and highlights.
Our stylists
More...
Young company eager to grow and develop rapidly in the world of hairdressing, influenced by our experiences abroad where we try to give a modern twist, young and different to
More...
Wigs in Lima
http://lima.amarillasperu.net/guide/wigs.htm
Beauty Salon specialists in hair extensions, and everything related to beauty. ...
Therapeutic massages in Peru
Serbs of massages and therapies at home or in office. ...
Professionals at your service with a friendly and edgy. latest trends in cuts for men, women, modern and traditional courts.
Hairdressers: supplies and equipment in Lima
We are dedicated to the manufacture distribution and marketing of natural hair extensions, in addition to offering a high range of related products also make...
Lights Beauty Salon is a beauty created for comfort and relaxation of its customers, lights offer a variety of services that emphasize cuts, dyes, manicure, pedicure, facial treatment and body
More...
Hairdos, had lots of trouble Brazilian, hairdo for fianc2ees, quincea?os, manicure, maquillajes, shaving, you cut, hairdressing salon.
Nuestras Páginas Amarillas en Español
Les invitamos visitar también: